Bible Codes
"It is the glory of God to conceal a thing: but the honour of kings is to search out a matter." Proverbs 25:2
Be VERY CAREFUL with THESE
- Do Not attempt divination (foretelling the future with these)
Did you know that a Jewish Rabbi in Prague discovered if from the beginning of the book of Genesis you skip 50 letters and 50 more, and 50 more letters that the word "Torah" was spelled out.  Additionally, it is also spelled out beginning from the books of Exodus, Numbers, and Deuteronomy.
Did you know that in the Torah  (Old Testament) every 666th letter spells out the phrase "Satan the accuser".  This happens exactly 7 times.
Did you know in Genesis 1:17, the surface written Word talks about God creating light.  Yacov Rambsel, a Messianic Jewish Pastor (reference his book: The Genesis Factor) found that beneath this, that every 94th character spells out the following phrase: "Lighthouse speed conceived".  Also, in that same area of text, the Bible Codes reveal: "186,282", which is the exact speed of light per second.

ARE THESE BIBLE CODES FOR SURE?  There are way too many occurrances in these Bible Codes suggesting that they are probably not here by chance.  They could be the Eternal Father's authentication system - authenticating His supernaturally inspired Word in Scripture; only meant for these "end times" when computers are common.  
We are all still in the exploration phase of these however......... Nobody is 100% certain about these yet.  My personal opinion is that I'm 100% certain there is something going on with these, however.  Odds like these are beyond comprehension.


Any book on the planet will produce "codes" via Equaldistance Letter Sequence (ELS).  What is remarkable is the number of germane words that seem to be clustered in just the right places in the Bible.  An awful lot of these in the Bible point towards Jesus of Nazereth as both the theme and central point of the Bible......

Below is an example that one may think relates directly to Lady Diane via ELS in Robert Louis Stevenson's "Treasure Island".  Any book may come up with 1 or two things like the book Treasure Island below.  But NO Book can come anywhere near the amount the Bible contains.  And not only that.  What we are seeing in the Bible Codes are exacting with dates, people, and events - so that they cannot be random instances like the Treasure Island book below.


 "Mohammed" found in Bible Codes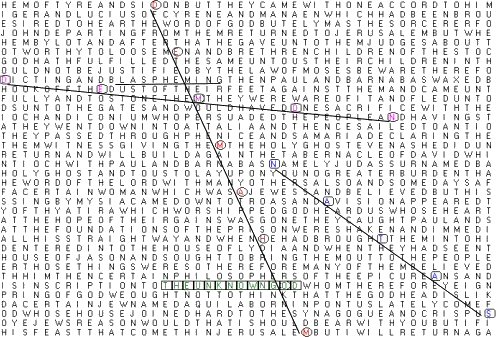 Red Diagonal: "Mohammed"
Words crossing diagonal above: "Blaspheming"
Red crossing Diagonal below Blaspheming (left to right): "Demon"
Blue diagonal right corner: "Satan"
Green across: "The Unknown God" (as in Muslims pray to a God not there)
The "O" in "Mohammed" is the "O" in "God" in "The Unknown God". This is saying that Allah of Islam is not the God of the Bible, who is the true God, but rather Muslims are worshipping a nonexistent deity.
AND  below: "MOHAMMED" crosses "PROFANE MY HOLY NAME"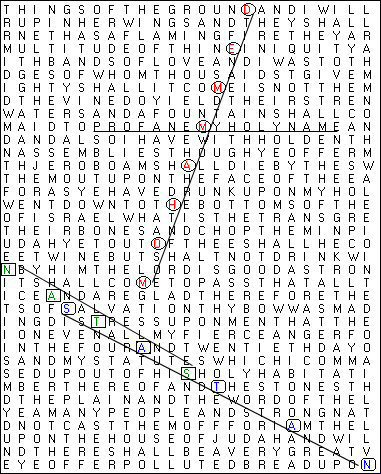 Dome of the Rock is the "Abomination of Desolation"
another supernatural revelation of God

You won't put this book down!